No biggie; it only became noticeable when the single digit began to overlay the tile text. I really like the functionality and look of this app, so much so that it's already replaced the ActionTiles/ST/HubConnect setup I had been using on all my Android devices. Only thing I miss is the 'view only' tile type, since a lot of my tiles convey status flags (via virtual switches) and some of them start ringing audible alerts if activated unintentionally.
One other thing, is it possible to have a tile attribute to indicate acceleration active/inactive of a device like the SmartThings multisensor? I use a couple of these in the laundry to indicate if the machines are operating. The JSON details of the multisensor look like this: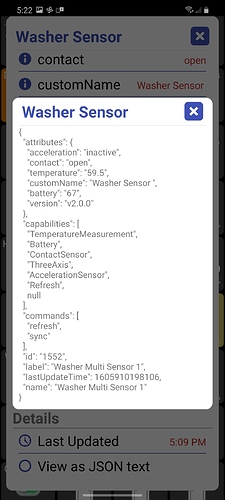 Right now that device type allows selecting 'Generic Sensor' in addition to Door/Window/temp, but when set to 'Generic' the tile does not allow setting distinctive icons when acceleration is active or inactive.