I can't get custom drivers to work at all on Smartthings or Hubitat, I got the driver created but no devices are selectable.
Hubitat
It's not letting me select anything on another Hubitat hub either:


I even created a new virtual presence sensor on this example above but it's not showing any devices are selectable.
Smartthings:
I tried initially to add a few devices from Smartthings but those weren't showing at all so I tried just a Presence Sensor and can't get any devices to display at all regardless of what attribute I pick: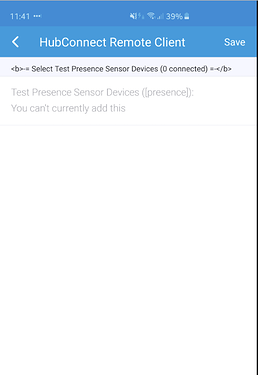 There should be 3 showing on this list above. Looking at it, it's not displaying the attribute correctly since it's showing in brackets instead of parentheses. It also looks like it's not formatting the bold correctly, it's showing the bold tag coding instead of actually making it bold.
See how it shows normally below: