I am currently using a custom averaging app that takes 2 or more Temp readings and forwards them to a Virtual Thermostat. This works well, but there is no truncation on the average decimals, so sometimes I end up with a very long temperature "reading". I have no Groovy knowledge so don't know how to change it. In addition to this the current app has multiple non-nested instances, which doesn´t look super nice.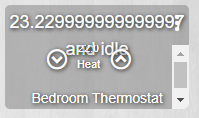 I was hoping that I could use your Averaging Plus app for this, but it seems I need to create a new virtual device or use an existing one but with a specific driver. I suppose I could create a new device and copy the temp to the thermostat, but that just adds more devices, which is something I was trying to avoid.
Any idea if I could do this differently with Averaging Plus ?