Lift Off
Follow, and automate based on, the Space-X launch schedule.
Graphical tile for your dashboard showing the patch and launch time for the latest/next launch
Retains latest launch info, including success or failure, for 24 hours. Then populates with next launch info.
Automate based on launch time, launch location, and/or rocket type. For example, set up to be notified on the day when a Falcon 9 rocket is to be launched from Kennedy Space Center.
Switch turns on when it's a launch day.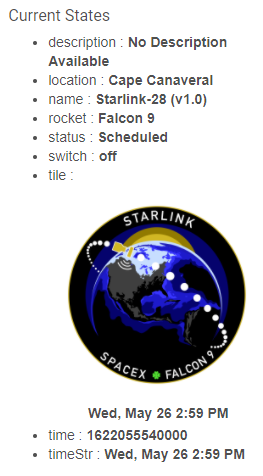 Manual Install Instructions
Install Lift Off Driver
Add Lift Off Device
Hubitat Package Manager (HPM) Install Instructions
In HPM, Find Lift Off under the tag "Dashboards"
Install Lift Off via HPM
Add Lift Off Device