Hi All,
I am 1 week into my migration from ST. Nearly all devices are moved over except some unsupported leak sensors and my Arlo integration (IFTTT for now). I have my basic Rule Machine rules configured ie door chimes, duplicates of my Goodbye and I'm Home! automation from ST.
My question is in regards to more advanced rule triggering and restrictions.
How can I make a rule run only once per arrival? Meaning I have a presence sensor that when it arrives AND the front door sensor opens I want to play an Alexa Speaks message to welcome home. But I only want this to happen once per presence sensor arrival. I don't want the welcome message playing over and over.
I have the basic rule below to do this but it runs over and over. How do I make it only once per "arrival sensor arrives AND front door opens"?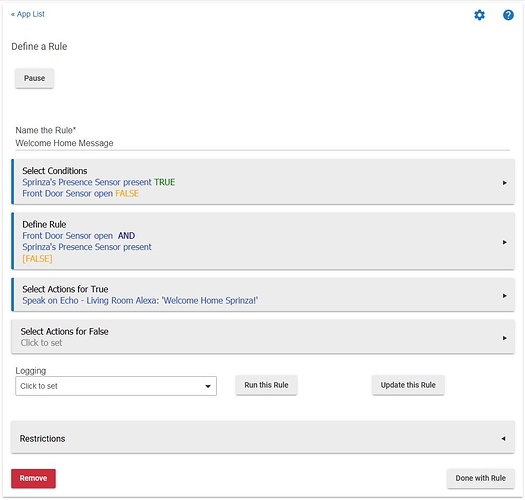 Any help is very much appreciated!
Craig