I installed a new Lutron Caseta Fan Control today and am trying to control it with a Pico via the Button Controllers app. I am able to turn the fan on/off by holding Pico buttons 1 and 5 (so I know the Button Controller app is correctly subscribed to the Pico), but am not having any luck cycling the fan speed.
I first tried mapping holding buttons 2 and 4 to adjusting the level +/- 25, but that seemed to have no effect (probably because the Fan Control device does not report its level). I then tried mapping holding button 3 to the Adjust Fan action, but that also does nothing. The fan stays at its current speed, and the device page for the fan does not show any events being sent.
Attached is the Button Controller app setup and status page for the attempt to use button 3. Should this work? Is there any chance of getting the Fan Control device to report its level so I can use buttons 2/4 to adjust the level up/down rather than just cycling through speeds?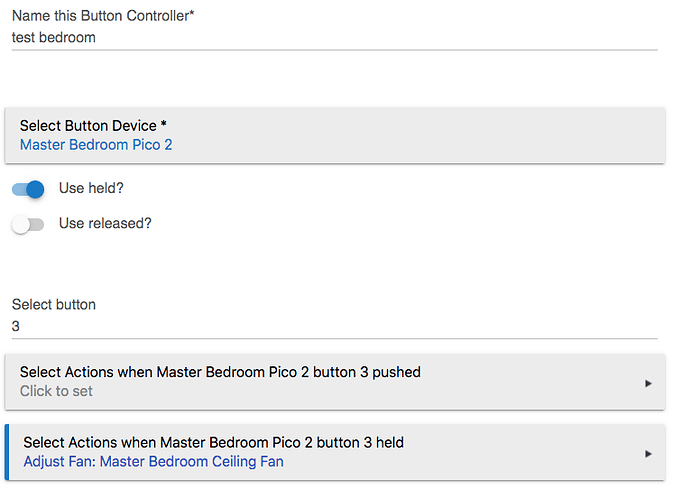 Also attaching events from the Pico device, so you can see that it is generating the held events correctly.