I've been using my HEM v1's, a few Iris Outlets, and some Aeon Smart Outlets for the last few months on Hubitat. They are really bad about updating with built-in or modified ST drivers.
Who's using these and are you getting much success with them?
Devices:
HEM v1
Aeon Smart Metering Switch DSC06106-ZWUS
Iris Outlet
Drivers:
Aeon Home Energy Monitor (updated every 5 minutes? can't change, not consistent)
jscgs350 : My Aeon Home Energy Monitor Gen1 (ST) (Needs refresh via RM, but not consistent)
Generic Z-Wave Outlet (does nothing)
jscgs350 : My Aeon Metering Switch (ST) (Refresh button works, but RM doesn't refresh it, updated values don't push to my InfluxDB app)
Generic Zigbee Outlet (no energy reading, updates watts mostly consistently but can't set interval)
blebson : Iris Smart Plug (ST) (Inconsistent and randomly stops updating at all)
Here's the 5 minute interval issue, vs what I want at 15 second interval: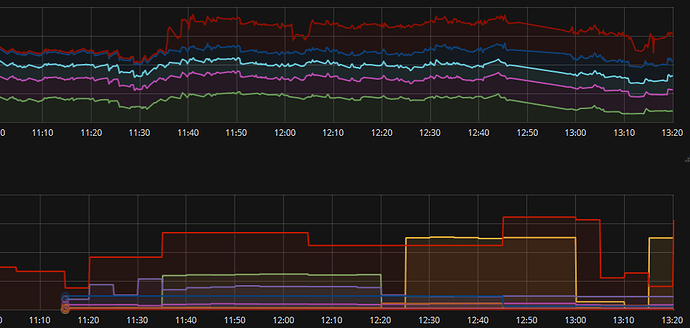 Top is some Iris Outlets and Aeon Metering Switch on ST, bottom is Hubitat.
Here's my Dryer HEMv1 showing randomness with an ST driver set to 15 seconds:


And the RM rule doing the 15 second refresh request: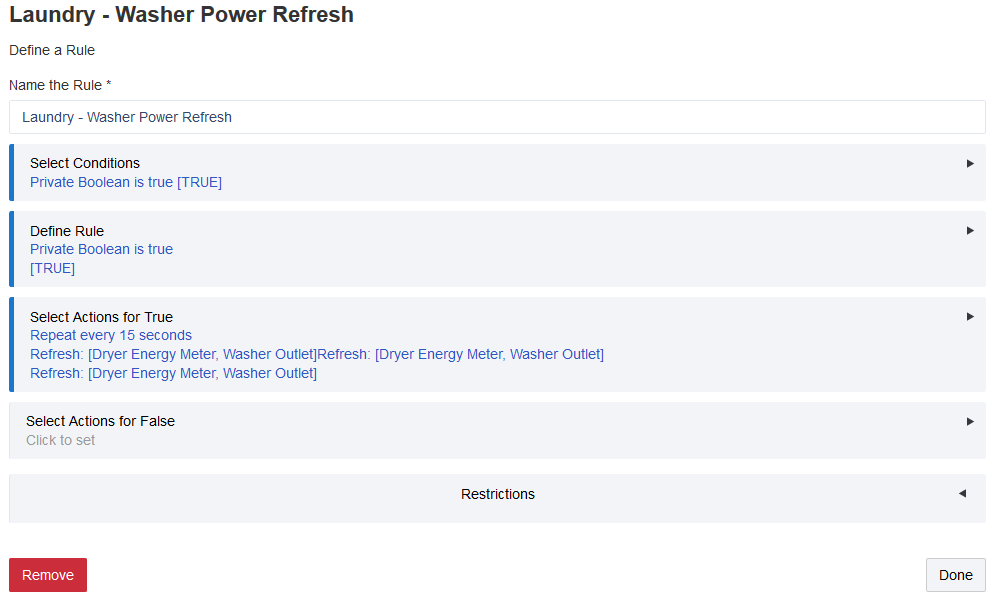 It just stops scheduling jobs for no reason, and Event List shows nothing for the Rule.
I've removed random devices and put on ST, they start graphing properly right away, then excluded/removed and put back on Hubitat, and nothing changes. Configure either doesn't fully reset the device or doesn't send updated settings is my random guess.
Any help would be appreciated, if I can get this working correctly, I can remove all remaining Zigbee and Z-Wave devices from my ST hub!