I joined Hubitat two years ago when we bought this house. There's been one thing that kept getting put off in place of something more important. Anything is more important than cleaning up my "hub" room. I call it a hub room because my server is actually in my office. Everything else smart or entertainment related is located in my hub room in the center of our home under the steps. I'd have to say that it's a pretty sweet spot to have. This is actually the only unfinished spot in our house. So, last weekend I shut everything down. Yah.. hubs wasn't happy, football was on. Oops ... We'll just .. turn .... this back on. Crisis averted. I still feel that this is absolutely chaotic because the house was built in 1994 and definitely not set up for technology. But I did the best that I could with what I have. We have drop ceilings, so it was easy to get some Ethernet pulled to other rooms from this area. What I have to chuckle about is that little box mounted to the 2x4 that runs the entire operation for me. That one little thing. (sigh) I decied to post this because others will appreciate that I don't have a big expensive server rack or box to show off my equipment. Homemade shelves and 2x4 framing. The area is enclosed and has a doorway. And a power washer stored to the left. Ha!

The living room is on the other side of the wall. All of the entertainment equipment is kept here. So no visible electronics in the living room. I like that clean look.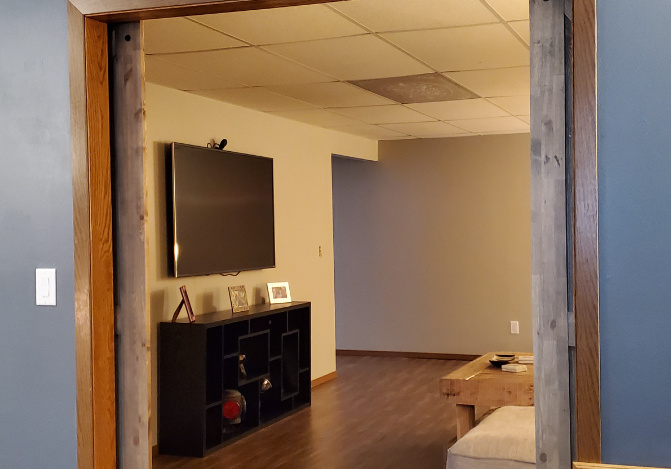 View from my office.
(Hey! Don't be hatin' on the piggy piggy bank.)