Does anyone know (or know where I can find) the possible weather forecasts using OpenWeatherMap?
I'd like to do a custom attribute off the field below "weather: clear sky" to announce things, for example: "It's raining, close the windows".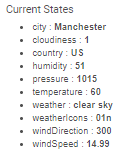 I could probably use "contains rain", but knowing the options would be helpful, in case there are things like "thunderstorms" or "rain possible".