Hello,
I have recently decided to dabble in home automation starting with the lighting and I am about to embark on my first steps.
I had some questions and I hope the community can help me.
In the bedroom (UK apartment), I have a single on/off switch for the ceiling lights (2 x 7.5W LED bulbs).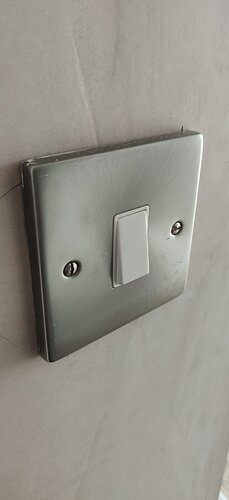 I want to be able to have this controlled via Hubitat (and be able to dim it, on/off it and control by G. Assistant). I understand that I can achieve this using a fibaro Dimmer? Do I need to change the chrome switch to a different type - eg momentary?
The other thing I have in mind is to have an electrician install 2 in wall lights on the left/right of my bed and have one each side a wall switch that will allow me to control the in wall lighting above, the ceiling lights (but they will not be on the same circuit) and then in the future, I want to have on the switches the option to control zemismart roller shades (again, on the same circuit but controlled via Hubitat based on the button presses).
Is the above viable/possible without having to create circuits and having to dig through walls?
Can also Zemismart shades be controlled via a light switch?
What switches would you recommend (in UK)?
I had a look on zigbee and zwave smart swicthes (like the lightwaverf ones, but either they don't work well with Hubitat and/or are white/plasticky (I want to ideally have chrome or brass faceplates).
Lastly, I have a corridor with 3 on/off switches. I want to be able to smarten it up. Do I need to add a Fibaro style switch behind each dumb switch, or only doing it in on of the 3 will suffice to smarten up the whole circuit?
I have been reading but I am getting confused... I would appreciate your input in helping start my automation journey!