Hello,
Recently I have been seeing a light that is part of a Motion Lighting configuration turning off when the time is out of the normal range. This light is only automated to turn off by Motion Lighting. I am trying to figure out how to troubleshoot this.
My ML config is set to turn on "Hue Color Candle 2" at night when motion is detected. It turns on and set it to Red. Light turns off 1 minute after motion stops so usually 2 or so minutes when accounting for the motion sensor to clear.
I forgot to get a shot of the app this morning but I have it set automate until 5:45am every day. Below is the shot of the logs where the light goes on and off. How to I figure out why the light is turning off and what should I do about it? I have deleted and recreated the routine already and that did not seem to help.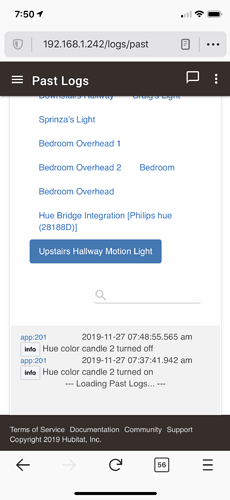 Thank you!