Let me know if you think Rule Machine is not the best app for this.
I have a lock and contact sensor on a walk-through door in the garage. If that door or lock is open at 7 PM or if the state changes between 7 PM - 6:45 AM I want to send a notification to my phone and log it to a file.
I think I have the action part figured out. Now I am struggling with the triggers and required expressions.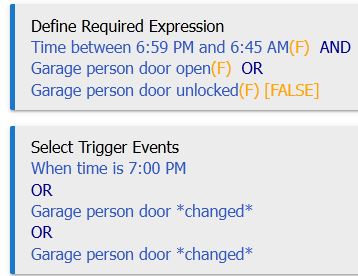 This would alert me at 7 PM or Lock or Contact change during my timeframe but only if the Contact is open or the Lock is unlocked so I would miss the notification if the door is closed or locked.
Do I need to split this into two rules or can one rule cover it?