So I bought 2 Red dimmer at the same time, installed them next to each other and one works as expected while the other just doesn't activate scenes (example: button 2). I have installed the Inovelli Red Dimmer Driver that was updated yesterday.
I'm specifically wanting a double tap up to go to full brightness. Only 1 of 2 of my Red Dimmers will do this.
Any ideas on what's happening here?
Driver I installed:
https://raw.githubusercontent.com/InovelliUSA/Hubitat/master/Drivers/inovelli-dimmer-red-series-lzw31-sn.src/inovelli-dimmer-red-series-lzw31-sn.groovy
Simple Automations for the Dimmer that works (kitchen) and the Dimmer that doesn't work (Bar)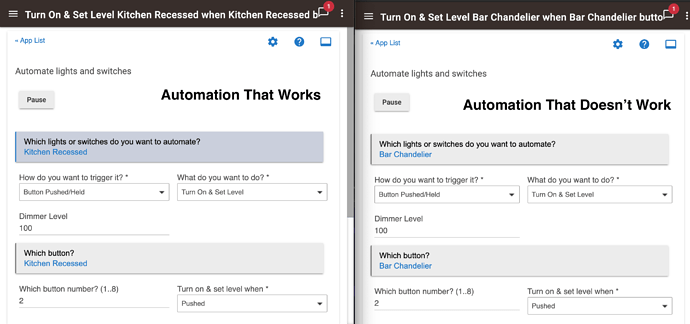 Rule Machine that doesn't work: