Last night I used Alexa to turn on my Family Light (which is a Leviton DZPD3 Z-Wave Plus dimmer using the Generic Z-Wave CentralScene Dimmer driver). It came on. Logs show correct HE response:
My evening shutdown rule which turns off all lights at 11:30PM apparently ran correctly because the light was off this morning. However, I see nothing logged to that effect, and the status from the Devices listing shows that it is still on: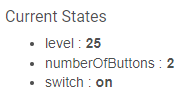 Likewise, the Dashboard shows it still on at the 25% setting established by Alexa command.
The Devices summary shows:

So, it seems that I have a credible connection to the mesh via nearby repeaters, etc. Is this an issue with the device itself, or with something strange within the HE hub? I would have expected the logs to show the turn off action at 11:30PM (which actually turned off the light), but nothing captured, hence the bogus status. I thought Z-Wave Plus devices continually reported their status, so maybe it is something in the driver?
All thought welcome.