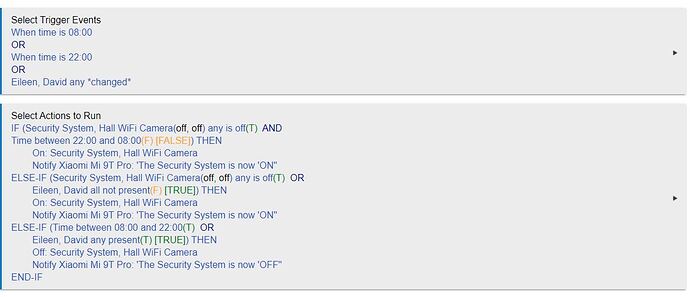 I have been living with some inconsistencies on this rule for some time, but I have decided to try to address them, but without much success.
In essence, I want to the Security System and the Hall Camera to turn on every evening from 22:00 - 08:00, regardless of Presence. And, I want both devices to turn on if both David and Eileen are Not Present, and of course to switch off if either D or E returns. David & Eileen are Life360 Presence. I have tried using both phones but I am getting more consistent results with Life360.
Frequently I will get notified that The Security System is now 'ON' followed by another notification that says The Security System is now 'OFF'. Frequently, I find the systems on when I expected them to be off, or indeed the other way round.
I am wondering if I have complicated the Rule too much with the middle Else-If.
Any guidance would be much appreciated. Thank you.
Dave