I just came across this info.
Yeah, Sonos has been spamming me all week about this! I'm picking up two tomorrow. $99 Sonos!
S
Interesting. I find (in my listening) environment -- that the Bookshelf Speakers are better than my Play:1 in overall range (more of a bass punch). But...I'm no audiophile, so my judgement is likely suspect.
S.
I guess we'll see them down this way in time for Christmas !


I'm not an audiophile but I am a music tech graduate and can confirm the bookshelf speakers sound amazing, very good sound quality, the lamp is not as good but still sounds good.
I didn't buy one even though I was tempted, I have far too many google minis and various book shelf speakers already, there was zero WAF
Yay looks like Christmas may come early for us Down Under.... Availability
Be good to know how 2 of the bookshelf versions can be setup for Stereo. One dedicated to LEFT and another dedicated to RIGHT channels.
Yes they can. Sonos app asked me that when I added mine.
I ordered 2 in the UK and arrived yesterday. Really impressed for only costing £99 each and that they use the sonos app. Even added it to a tile to adjust the room volume and skip play. Only suggestion on the tile is to add a quick play like BBC Radio 1 tile for example for quick access or a open up menu for playback but I suppose this starts to get complicated with streaming
How's the cricket going for you ??
( dead jealous kiwi living in Aus

)
No idea, apart from wet lol the last and only live cricket match I saw was at the WACA it was a mildly interesting 20/20. Drove the wife mad "what does that mean" "how many points is that"
I've done an event at Lords and surprised how small it was! it's surrounded by buildings but the clever camera angles work wonders!
Very thorough teardown of the Symfonisk shelf speaker. Appear to be a Sonos One in a different cabinet. Definitely helped the bass to do so.
Pretty good video there, thanks!
What is the best light bulb for them? I tripped over the fact they don't take my normal sized bulbs.
I picked up a TRADFRI E12 600 today. Of course it was on the opposite shelf from the SYMFONISK Lamp I picked up. Long story short, it seems to be working properly. I don't have control over the color of the bulb, but it does dim/brighten and turn on/off.
As a side note, the socket is stamped with a warning to not use any bulbs above 7.5 watts. The bulb I picked up runs at 8.6 and it's set for 2700. The second issue is that the light looks horrible. I ended up putting the shade from my old lamp back on and it looks so much better.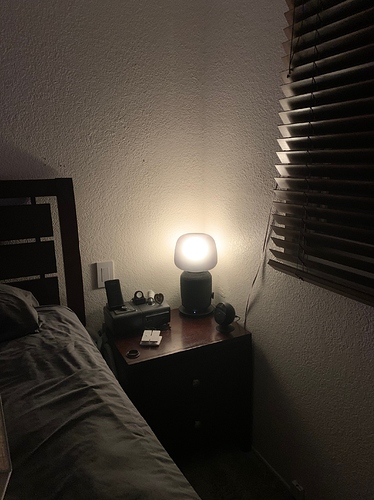 This topic was automatically closed 365 days after the last reply. New replies are no longer allowed.