So I am not sure how many people here want Icons for their devices or in notifications, but I sure do. (I have a request in with habitat for this, but until then I have a work around and thought I would share incase others don't know about it and want it.
Here are some example of what I have:
Dashboard Lables: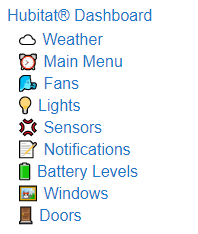 Rule Machine:

Devices:

Now the way I get that is using text emojis. Ya I know right who would have thought. Here is the link I use to get them:
https://emojipedia.org/google/
Just find the one you want click copy and past it into anywhere hubitat will take text. But be aware don't use the emojis in the Device Label ever, Voice commands will stop working as the emoji confuses alexa/google. And don't use it in the Device Name unless you also create a Label without the emoji as seen in my examples.
I did this as it make it easier at a glance to find what I am looking for without having to read everything and I also use them in notification I send myself: example:

System Armed

See I can even use them here.
Hope this helps others. Enjoy.