I see that the Hubitat Safety Monitor app has (under the "automatic arming/disarming page") a section where you can configure button devices to use to arm or disarm HSM: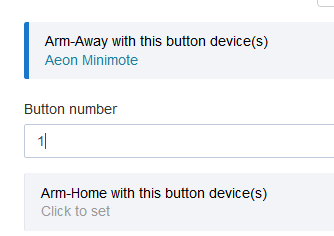 However, this doesn't seem to reflect the button model as it is actually implemented in Hubitat. It only lets you choose a button device and a button (maybe this means "push"? or could it mean any and every action?). If you have a device that supports holding (like the Minimote you see I'm using) or double-tapping, it's not clear that this will let you use those capabilities. I'm guessing this is part of the original implementation and wasn't updated when Hubitat adopted new button-related capabilities, but if I'm missing something, let me know.
If I'm right, consider this a feature request.
(I'm guessing RM can do it in the meantime, though I never checked. ABC, which I was already using for the Minimote, is apparently not able to change HSM status.)