I just added Ecowitt Rain Gauge to my sensor's collection.
I am using driver written/maintained by Simon (@sburke781).
Driver picked up this new sensor without any problems and
many attributes are visible on the device page: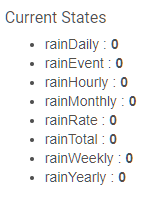 (All values are zeros because sensor was installed few min ago).
So far so good but ... this sensor is entirely missing in the RM
no matter what I tried. Logical place to start would be to use
"Run Custom Action" option. But this sensor is not visible at all
in the Device List for Custom Actions.
Question is :
Is it possible to feed RM with data/events from this sensor
or this is a very good motivation (finally) to start writing my
custom apps?