Is there a rule on what the distance should be between the habitat hub and a router?
There's no specified distance. Is this a WiFi router? If so, I'd keep them at least 6 feet apart to minimize zigbee/wifi interference.
Unless your is.only 5 or 6 interference should only be 2.4g
Thank you. I will have to move it. It is sitting about 6" from my wi-fi router
Mine is also around 6-12" from the router, I have not noticed any issues.
Setting the 2.4Ghz Wifi and the Zigbee to channels that do not overlap will help avoid any issues.
Your mileage may vary. Mine is currently about 12" (30cm) away without any obvious degradation of performance. I have several nearby repeaters, which probably helps.
My HE hub is less than 3" away from my Tenda AC23 router. To its right is one node of a Tenda MW6 mesh. Sitting on top are two Wyze outdoor camera base stations that are strictly 2G. It has been like this for over a year with no issues. Of course, as soon as I hit 'Reply', the demons of Zigbee and Z-Wave will be awakened to wreak havoc.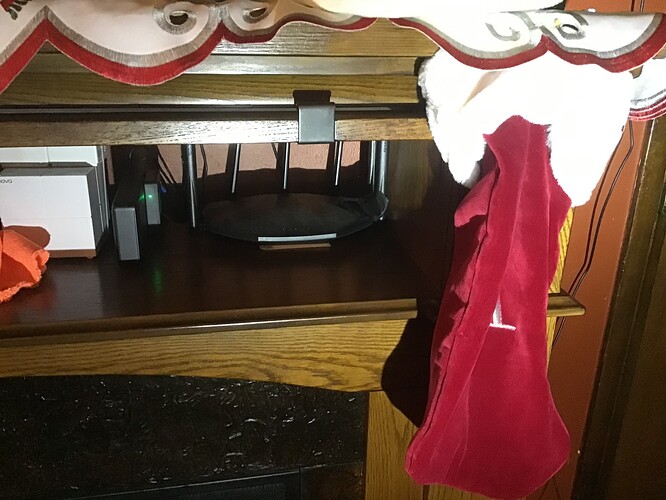 The HE hub is attached to a RAVPower USB power bank that provides uninterruptible power to the HE hub.
Thanks for the information. I have be having some problems with Wi-Fi connections, and I thought that the hub may be interfering with it. I have an older home with lath and plaster maybe the problem.
Maybe a neighbor got a new router for Xmas and is sitting on your wifi channel. I would recommend a wifi analyzer to check it out. Many available on android and a free download from the MS store for windows.
Unlikely. If anything, WiFi can interfere with zigbee but it's usually not the other way around because WiFi radio signal intensity is greater than zigbee's.