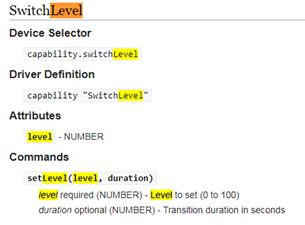 Dimmer level setting in device driver...
I want to implement the ability to set the level of a dimmer without turning it on. I know that not all dimmers allow this, but the device I'm working with does.
I'm not entirely clear if the setLevel() command is intended to be used in this way, because from what I've seen in Rule Machine, it would imply that dimmers are expected to be switched on/toggled when the command is called.
I can implement some logic using the duration parameter, perhaps passing in -1 to indicate that the dimmer should not be switched on, however I'm wondering if there is a standard way of achieving this.
Cheers