So, I just got some Hue Smart Buttons, and they activate my washer and dryer rules when pushed. However, I cannot figure out how to do something in the rule based upon the button push. That is, I need to know if it was the button push that triggered the rule. I tried "Last Device Event" and that seemed to work at first, but as the power is changing on my power monitor, I am seeing that my Last Device Event is true even when no button push. See part of the rule below. I could set up a separate rule that only triggers on the button, then set a variable and map it to a switch and have my dryer rule trigger off of the virtual switch. However, before I do that and break one rule into two, I wondered if there isn't an easier way to detect the button push was the reason for the trigger.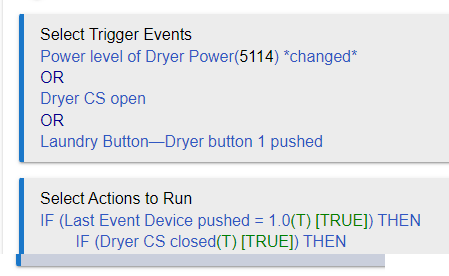 As an aside, if I try to edit the rule with "display current values" on then I get the error:
Unexpected Error
#### An unexpected error has occurred trying to load the app. Check [Logs](http://192.168.1.140/logs) for more information.

Error: Command 'toLong' is not supported by device 855.

and this in the log:
2022-01-16 10:02:54.138 errorjava.lang.IllegalArgumentException: Command 'toLong' is not supported by device 855. on line 7201 (method selectActions)

I think this is because of the comparison of pushed to a real number rather than integer.