I have a 3 way switch that is made up of 2 Inovelli Red dimmers. They are tied together via associations on params 2, 3, and 4 for both of them. The Front Door switch is the Master and the Living Room Front Door switch is the Slave.
I have params 1-4 for both as 2, 2, 0, 0. Param 12 on the Front Door (Master) is 11 and Param 12 on the Living Room Front Door Switch (Slave) is 15.
I set up Button Controller rules that says if the Front Door is double clicked down (i.e. 2 held) then unlock the front door and turn the front hall lights off with a 3 second delay. I have a similar double pushed button controller rule for the Living Room Front Hall switch, except I put the delay at 5 seconds as it is at the far end of the hall to the front door.
Sometimes both commands (unlocking the door and turning off the front hall lights) don't work and sometimes, particularly with the Living Room Front Hall switch, they fire in reverse order from the rule, i.e. the lights go off before the front door unlocks).
Here is a screen shot of how I have the rule set up for the Living Room Front Door switch (Slave):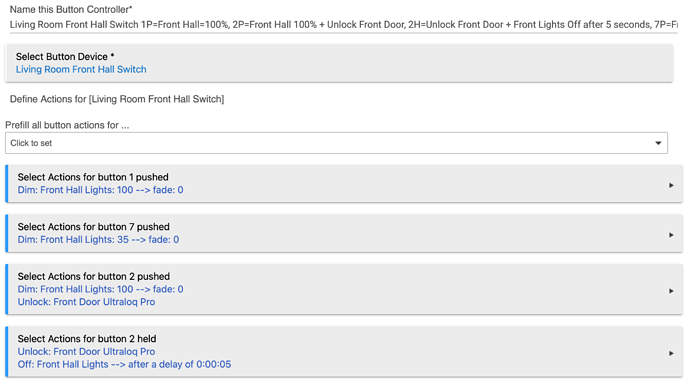 Is there a way to be sure they get fired in the correct order? Or at least be sure they respond in the right order?
Also, you may notice I have a 1 pushed rule. I need that despite the association because I have have a 7 pushed rule (the config/favorite button) that sets the front hall lights to 35%. Without the 1 pushed rule, if I pushed the config/favorite button and then wanted the lights to go to 100% I would otherwise have to turn the light off and then on or hold the dimmer.