I have two Inovelli tunable white bulbs in a floor lamp. Except for the Hubitat, these are the only smart components involved and the lamp is plugged into a regular wall outlet. This outlet is not controlled by a wall switch.
I want these bulbs to do three things:
When the lamp is on, start adjusting the color temperature at 9:45am from 3000 K to 5500 K over the course of 30 minutes. This is the "Desk light fade into day" rule in the screenshots below.
When the lamp is on, starting adjusting the color temperature at sunset -90 from 5500 K to 3000 K over 45 minutes. This is "Desk light fade into evening".
When the light off and then switched on, set the color temperature to 5500k if the time is between 9:45 am and sunset -90. Outside that timespan, the bulbs should turn on to 3000 K. This "Desk lamp on".
Here are my rules. I have the two bulbs grouped as the 'Desk lamp' device.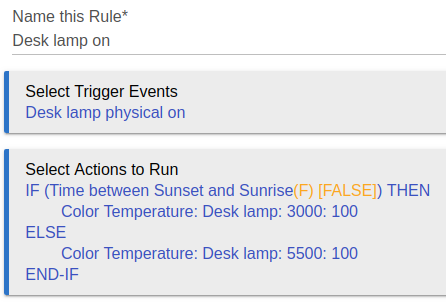 The fade rules are working fine, but it doesn't jump to the proper color temperature by itself if i turn the lamp on in the evening or early morning. However, if I log into the Hubitat and run the rule manually, the rule works and the color temp changes right away.
I know I'm close but I'm missing something. Any suggestions how I can make this work?