Zigbee doesn't use a 'whisper mode' during join; that's strictly a Z-Wave thing. When a Zigbee mesh is in 'add device' mode, all routers (with end device capacity) can accept join requests from a new device within their range ; once the inclusion is underway, all message frames actually pass directly between the end device and the parent router accepting the join; the hub needn't be in range of the new device at all-- it will route frames to the parent (which then are retrieved by the end device during subsequent 'data request' transfers).
Wireshark sometimes tends to obscure the actual source and destination at the link level; the capture lines may show only the Zigbee network layer source and destination (so a message coming from, say, end device 0x52ea to coordinator will show Source = 0x52ea and destination= 0x0000... even though that capture line represents the first hop of the message exchange between 0x52ea and its parent router 0xb835.
To see this you need to double click on the capture line and look at the 802.15.4 Data section where the actual source and destination for this first hop are displayed.
For example here's part of a capture of an end device (Tuya 4-button) joining a C-8 through an Iris V2 plug (0xb835); I made sure the join would be via the plug by cranking the C-8's power down to the minimum and locating it about 25' away from the room where the Iris plug and Tuya button were located.
Prior to line 65 the message transfers shown are between the joining end device and parent router (it's already been assigned short ID 0x52ea by its parent router 0xb835). At line 65 there's an exchange between the end device and coordinator (destination 0x0000). But expanding the details for that line shows both the Zigbee Network Layer S/D and 802.15.4 Data S/D and there you see where the actual first hop destination of this frame appears as that of the parent router 0xb835.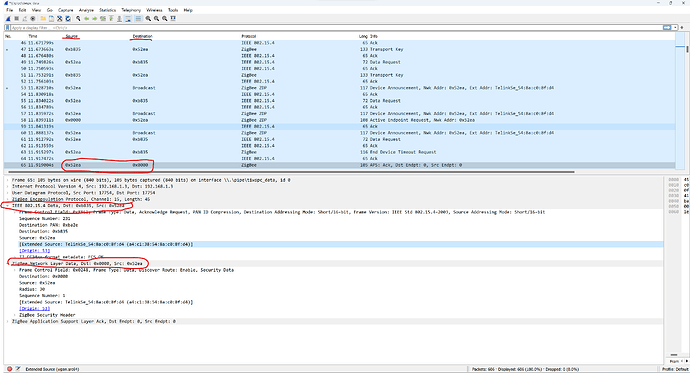 Prior to the C-8, the short ID's that a router would issue to a joining device would be randomized and change each time a device was reset and joined (they'd be broadcast as a device announcement to check for potential collisions). The C-8 has a different join behavior (evidently to help migration scenarios) and keeps a prior short ID assignment the same (by correlating the device's MAC address to a previous shortID assignment in its database). At least that's what appears to be happening...
That means that when a device previously joined to a C-8 is reset, it will retain its old short ID (deleting the device from the database prior to a rejoin will result in a new randomized short ID assignment),