So have been having some minor z-wave slowdowns that have been a little odd. Mesh looks good but noticed that a bunch (most?) of my devices duplicate entries in the logs.
This really became apparent when I used the Basic Z-Wave tool to change parameter 4 (instant on) on a Zooz V2 Zen24 Dimmer. I first did the get parameter report and it came back with a bunch of "0" entries. I then set the parameter 4 to "1" and it returned a bunch of "1"'s. Next I did the parameter report again and got 6 responses. I ran it again (for giggles) and got 27 responses!. Ran twice more and it went to 1 entry per run.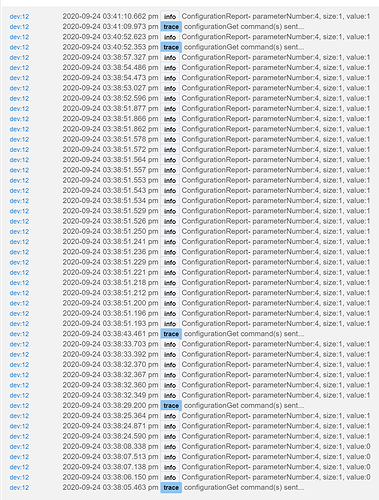 I don't think this is the driver or a debug issue.
For those with Zen24 V2 toggle dimmers setting parameter 4 to 1 allows for instant on/off. This ONLY works for V2 devices.