Though I'm fairly new to WebCoRE, I get the concepts and can navigate my way around just fine, with a couple of working pistons under my belt.
But all of a sudden, while building out a subsequent ELSEIF portion of my current piston, WebCoRE seems reluctant to let me complete an "Add a Task" (as shown in screenshot).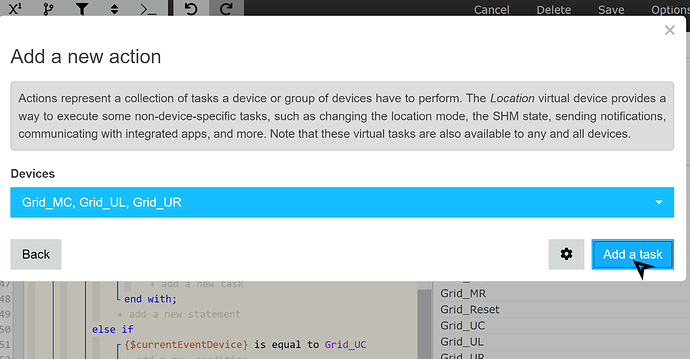 I have chosen the predicate device(s) -- all of which are basic virtual switches, btw -- and normally would proceed to assign a task like "Toggle" which applies to the group.
Nope! WebCoRE has other ideas. I Save'd my work for the day and gave up.
Anyone else stumble across this roadblock?
Seems that lately, when attempting to venture into deeper waters, I keep encountering stumbling blocks like this which give me pause (esp. knowing I'll spend the next 20 minutes documenting and filing a bug report or Goggling up a quick fix).
Insights welcome! Feels like either a basic glitch/anomaly, or somehow a browser-related bugaboo unique to Chrome/Win10.
BONUS POINTS for anyone who can tell me whether SWITCH/CASE statements are available in the Hubitat-specific instance of WebCoRE, as I'd very much prefer using that syntax vs a series of nested IF-THEN-ELSEIF's.