I have a basic rule that seems straightforward enough: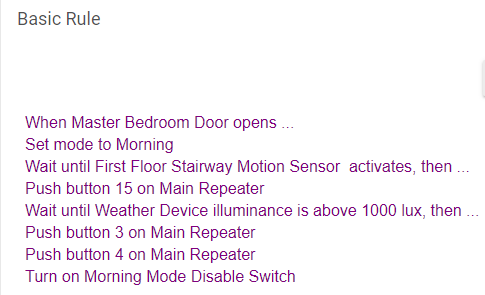 My goal was to push a button on my Lutron RadioRA 2 main repeater when I walk downstairs early in the morning. Then when it gets lighter out, push two other buttons on the main repeater.
The rule triggers as it should, when I open my bedroom door. And when I walk downstairs, button 15 on the main repeater does get pushed. But then the strange thing is if the stairway motion sensor becomes active again, buttons 3 and 4 on the main repeater get pushed. It's still dark and the lux level for the weather device is well below 1000.
I can't understand why a second motion event is triggering the main repeater buttons 3 and 4, which is what the rule log appears to be confirming.
I must be misunderstanding how the rule logic I created actually works, but I'm not sure how. Anyone have any ideas?
App settings page is below.