I run the Hubitat app on both my iPhone and my iPad. In both cases, I have configured it to allow for location data access always.
I know Apple has updated there IOS/iPadOS to give some warnings about when and were an app has accessed the location. The warning screen looks something like this: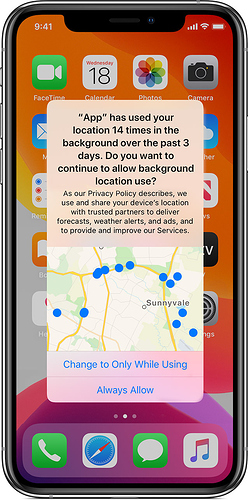 I have been having a situation where I get this type of a popup on my iPad a few times every week, maybe even a few times a day. The app identied is always the Hubitat app.
Here is the weird thing. It gives me just enough time to scan the popup to see that it is the Hubitat app, but before I can look at the locations on the map and before I tap either Change to Only While Using or Always Allow, the entire thing goes away.
Any idea how I can fix this so that the iPad believes me when I say, Always?
The other strange note is that if I ever got this popup on my iPhone, it happened once and seems content with the answer I gave.