thanks sir! assume the circuit is the same as in the model w/ display.
these are super cool. I need to control my vent based on humidity. so when I found a reliable humidity source, I'll get some of these relays.
I don't think they are.
I have a Tuya based temp/humidity/luminance with an lcd display that uses custom zigbee codes and won't work with HE.
If you like I can graph the two Tuyas on humidity and temp and share back.
I'll set it up now
far from me to push work on you but if you have some time, that'd be great just to see how reliable they are.
I was thinking about buying one more just for reference but.... this wide-range jumps in RH made me change my mind and look for something else.
Here is a graph just made.
I'll publish again tomorrow when the new settings have had an impact.
All set to .5c and .5% changes, just set them.
Three tuya sensors, the Hall one is a zigbee alarm that also has temp and humidity.
I have the tiny tuya sensors sitting on a radiator, so I can confirm the radiators is functioning and the other in a closet with hot water tank.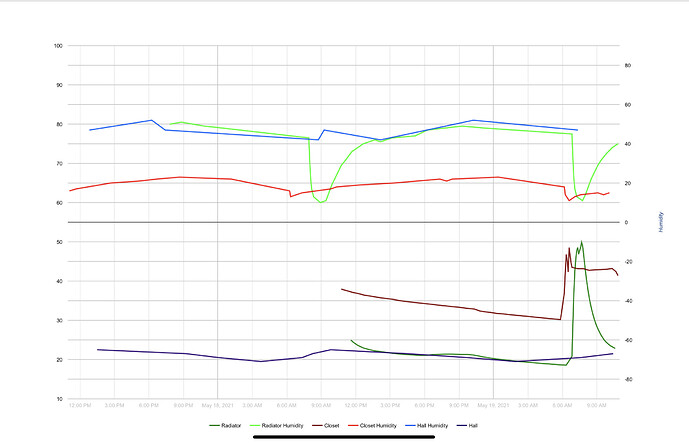 awesome. thanks. for reference it'd be even better to have two sensors beside each other to see if they have ~ the same readings. what are you using for graphing? something in the cloud ?
I am using Hubigraph for graphing.
I have ordered a slack handful more of these sensors that have not yet arrived. Hopefully next week.
I have not been tracking humidity at all and 90% of my sensors are Temp (along with motion/luminance)
I have temp sensors to duplicate but not humidity until the new ones arrive.
Maybe you could do some sort of high pass filter or smoothing to handle the spikes. That might at least buy you some time in order to find a better solution.
I have also been testing a Konke humidity/temp sensor in our upstairs hall bathroom (thanks to @aaiyar's recommendation) . Seems to be working okay so far. Have not measured for accuracy but not seeing any erratic jumps. Battery life seems so-so right now at 75% after installing it about 14 days ago. Suspect the included battery is not the best but will continue to monitor.
I have this happen quite regularly with Walmart on Amazon. I actually think they may be doing it on purpose as a way to leverage Amazons' own platform to look more expensive that their own. It has NEVER said sold or shipped by Walmart, but there is no disputing it when it shows up in that blue Walmart box.
Many third party sellers are located in China, they got supplies directly from suppliers, not necessary Alibaba, and eventually shipped to Amazon warehouse to take advantage of prime free shipping and don't need someone to handle shipping work in US. It's not exactly "reselling', they are the retailers using Amazon as a platform, just like they use Aliexpress as a platform worldwide.
I have a friend working with these kind of sellers (many of them barely know English) to send coupons out to boost sales or clear non-selling product to reduce Amazon's storage charge.
Buying from these sellers is fine since Amazon usually has FREE returns if using shipped by them. And Amazon refunds right the way after dropping return package at UPS (or Kohls).
If the price is decent then I don't care as much. I just happened to notice a recent Amazon order that came from Walmart and was less expensive on that site. Seems like some resellers are using both storefronts.. I'm not suggesting it's wrong or illegal (maybe against TOS who knows) just annoying to the consumer. I had gotten out of the habit of checking around before buying stuff as Amazon was so easy but now am a lot more careful.
The other thing I really hate is a product with an extra low price with inflated shipping rates... THAT should be against the TOS.
Kinda reminds me of their web services, which is a gigantic part of their business (it dwarfs all the retail stuff sold to consumers), and largely sold to other businesses as well.
Amazon not only sells items, they sell the logistics of shipping/distributing/storage/delivery etc. for other retailers and wholesalers too.
Doesn't always result in a seamless experience for the consumer.
I've been buying products from China for many years, from early dealextreme/dx, focalprice, gearbest, ebay and recently more on Aliexpress and Amazon.
My general experience is very good. Almost all dispute came to my flavor. The only bad time I remembered was am Android headunit bought from ebay that I had actually shipped back to China for a refund from credit card.
Pricewise, Aliexpress emerged to beat ebay's price in recent years.
And more sellers use free shipping from Amazon, while price is usually higher than ebay, free shipping and free returns make them more attractive.
(I sell extra stuffs in Amazon and eBay, prefer ebay which has less restriction and lower commission but I have to charge shipping)
No dispute is needed on Amazon because I only bought those shipped Amazon.
Dispute from eBay is better than Aliexpress from my experience. The Chinese sellers usually refund without much question asked to avoid penalty from eBay.
(As a seller, I once had a few sold items shipped late or canceled in a season and next season I could get payment only after a week or so delay)
Aliexpress is only for lower price. I have way more unreceived products from Ali than ebay. So, if you're expecting the items for a timely project, don't rely on that.
Disputes went fine nonetheless.
Messaging with Aliexpress sellers on dispute is generally bad experience, very often they hardly understand the issue if product is defective, or they will try to prolong the process if it's because products not received.
When years back on ebay, shipping charge was not accounted for commission fee, that happened a lot. Since ebay used final including shipping for commission, most shipping became more reasonable.
And also over years, shipping cost increased drastically especially USPS which is dragged by all sort of their issue.