Ever since the updates to Hubitat that included the new 4.0 Rule Machine, I've been having random anomalies with the Motion Lighting App. I tried to trace the issue in the logs but wasn't able to track down the cause. So I decided to rebuild the routine in the new Rule Machine.
Here is my current motion routine for my master bathroom lights: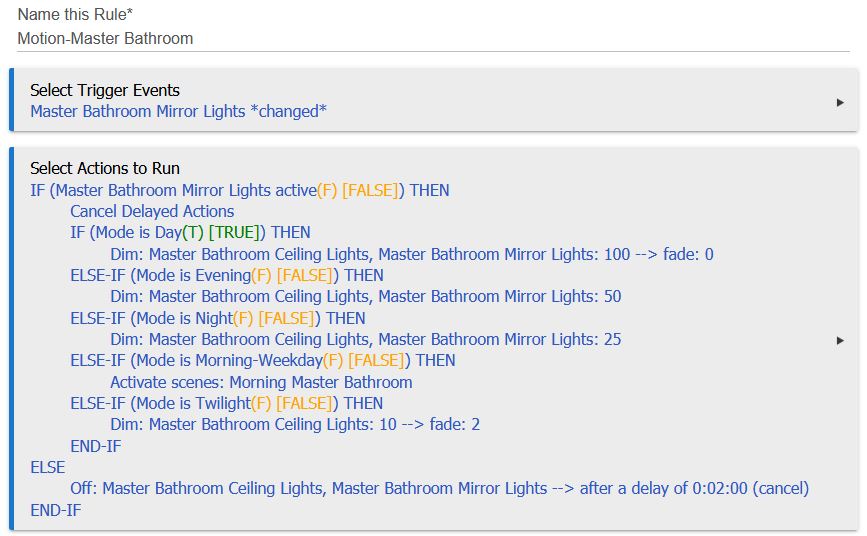 The "Master Bathroom Mirror Lights" device in this rule is a GE/Jasco Z-Wave Plus Smart Motion Dimmer (26933) switch. So it's both motion sensor and physical dimmer switch.
All works fine, but in the Motion Lighting App, I was able to set delayed offs for each mode with different "off" delay times.
As you can see in this rule, regardless of mode, all turns off after 2 minutes, (last ELSE in the rule).
I'd like write this rule with different delay times. For example, "Twilight", delay off for 1 minute for quick bathroom trip in the middle of the night. Then "Morning-Weekday" mode set for 15 minute delayed off to have enough time to shower without having to retrigger the sensor.
I thought about incorporating the "offs" into the nested IFs and leaving off the last ELSE, but something tells me this won't work:

Any suggestions are appreciated.
Thanks